Remodeling the kitchen can be an overwhelming project. For many homeowners, the expense and inconvenience of such a project may give them pause when considering such an undertaking. The good news is that kitchen makeovers don't have to cost a fortune. Read our tips below on easy ways to not break your budget, and make this the year that your dream kitchen becomes the envy of your neighborhood.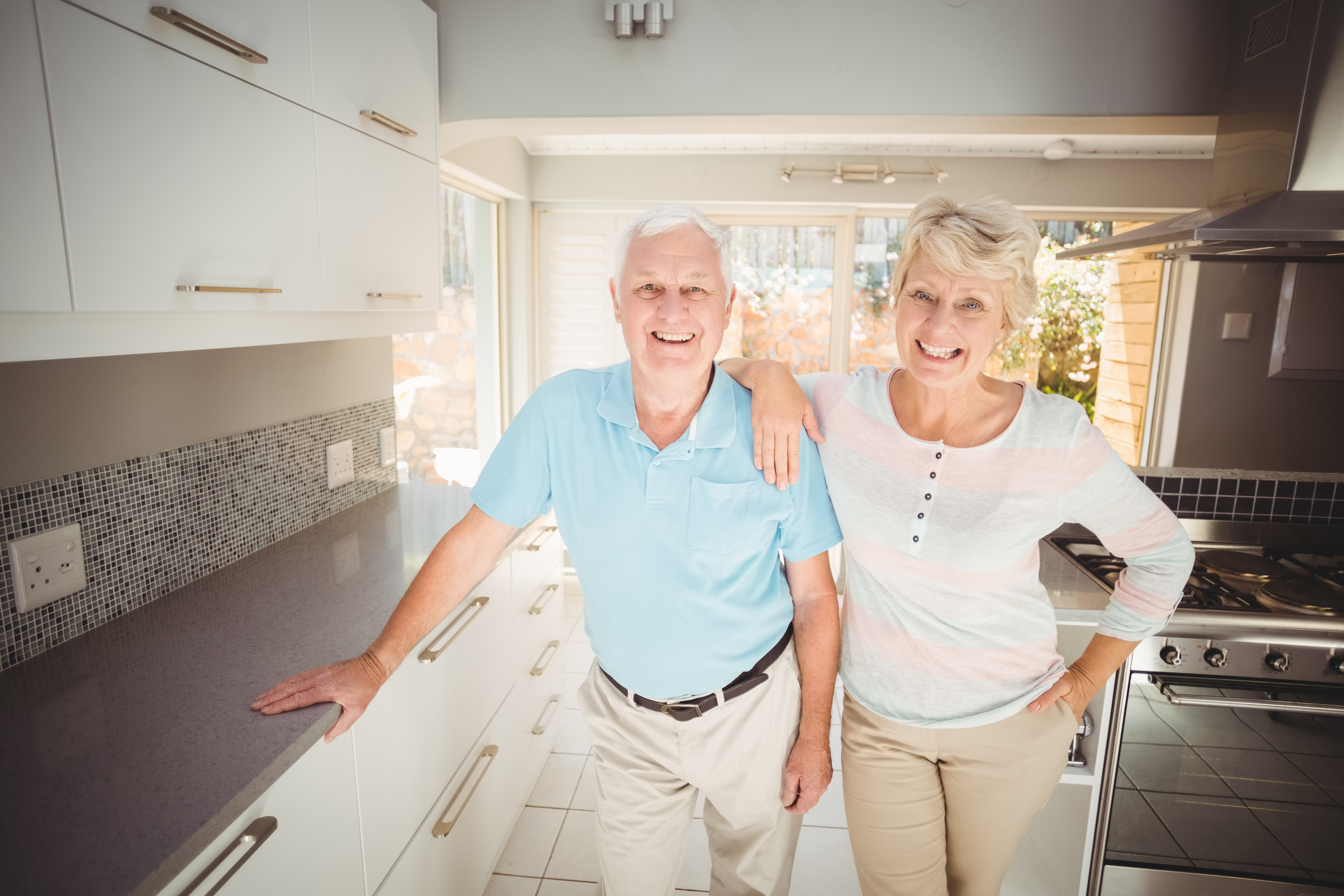 1. Include a Kitchen Designer in your Master Plan.

Many homeowners choose to be their own contractor in order to cut costs on their remodel project. However, don't let your confidence with a hammer and nails overlook the value of working with a professional kitchen designer. According to the National Kitchen & Bath Association (NKBA) the "services of a professional designer usually represent only about 4% of a total project budget." This is a real bargain considering that a designers' expertise saves you time and money in the long run by ensuring that you don't make expensive errors. Designers can also visualize the best ways to maximize the functional use of your space, and in many cases may create a layout that you didn't even consider.
(Source)
2. Bigger Is Not Always Better

Many people make the mistake of assuming that to get more storage and function out of your kitchen you must go bigger. The truth is, your goal should be to increase efficiency, not size. There are many products available that maximize kitchen organization, even in the smallest of spaces. Consider upgrading your cabinets to include dividers, pull-out trays, lazy susans or other cabinet accessories. If you are not planning on replacing your cabinets, these same products can also be bought aftermarket. If the price tag of these cabinet accessories seem pricey, just remember that if your alternative is to knock down walls and/or add square footage, the cost of accessorizing is most likely much cheaper.
3. Have Everything On-Site Before You Get Started

In an article for HGTV, Robin Siegerman, Chief Design and Renovation Officer at Sieguzi Kitchen & Home Inc. in Toronto, Canada, advises to have everything you want in the kitchen on-site before a single inch of space sees the sledgehammer. She explains, "One of the factors that sends a budget spiraling out of control is a homeowner picking products during the renovation." If a product is backordered, the homeowner is often faced with a choice: pick a different item that is often pricier, or wait for their original choice, when their trades people may have other jobs scheduled and the homeowner may be charged extra for the work.
(Source)
4. Keep Plumbing and Appliances Where They Are

Simply put, moving plumbing equals more money and time. Plumbing is located underneath the floor, behind the walls, and in most houses it impacts other rooms in your home. The process isn't as simple as moving a sink from location A to location B. Moving your appliances around requires a major rethink in terms of where the plumbing sits within the structure of our home. To keep your remodel on budget, it is always recommended to keep your plumbing and appliances in the same spot whenever possible.
5. Big Box Stores Aren't Your Only Option

Get to know your local cabinet shops and discount home stores. These stores often sell off old displays or unused products at deeply discounted prices. If the store has a scratch-and-dent or Outlet center, take advantage of the great prices. In most cases, if you can't find all the pieces you are looking for, the store will still be able to order the remaining product. It's also common for contractors and builders to donate or sell their overstock and/or unused products which you can then buy at a great value. Additionally, these smaller stores are usually happy to recommend builders and contractors if you need assistance with this aspect of your remodel.
6. Get Creative With Your Architecture

You can give your kitchen a custom high-end look without spending too much money. Adding toe-kicks or bun feet to your cabinetry is a small detail but one that has a big impact on the finished project. It's a simple way to spruce up a standard stock cabinet with a custom, furniture style look. Be trendy with your textures by adding beadboard paneling, stacked brick or stone, or a wood planked focus point. Islands and back splashes are two areas that work well as a canvas for creativity.
7. New Hardware Goes A Long Way

Don't overlook the importance of cabinet hardware. The shape and finish of your pulls, knobs and handles can make a big impact on the look and feel of your entire kitchen. With the unlimited variety of shapes, sizes and colors available, it's a simple and inexpensive way to freshen up your existing kitchen and add a flare of personality to your home.
---
Share Post:
Image Credit:
Image purchased at bigstock.com
Read More