Looking for some last minute Christmas ideas for the people on your list? Or perhaps you're ready to cash in all those gift cards you've already received. Whether you are shopping for yourself or a loved one, here are our top ten must-have picks for kitchen appliances and accessories that are sure to delight anyone who spends time in a kitchen.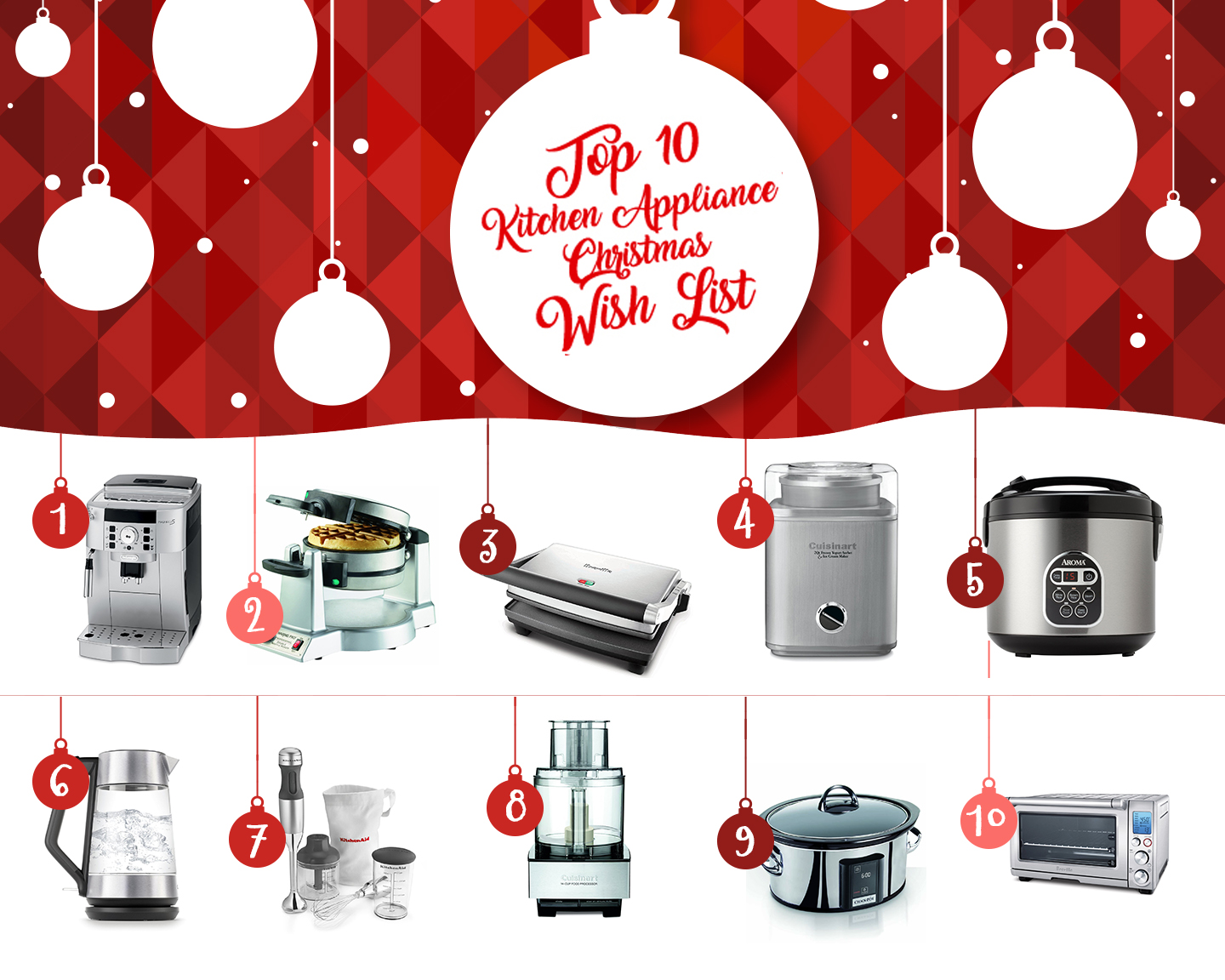 1. DeLonghi Fully Automatic Espresso, Cappuccino, Latte & Coffee Machine

The design is compact. The espresso and cappuccino, authentic. And the preparation, simple. Now you can satisfy your craving for an espresso, cappuccino, latte or macchiato anytime. This automatic machine has mastered the art of espresso making for you. Compact and elegantly designed, the Magnifica Compact will be a welcome addition to your kitchen counter.
$730
Buy on Amazon
2. Waring Pro Belgian Waffle Maker

What's better than one perfectly baked, golden brown Belgian Waffle? TWO! The Waring Pro® Double Belgian Waffle Maker does just what it says it will do, baking two deep-pocketed big Belgian waffles at once – to the shade you like best. The unique rotating feature ensures that both waffles bake evenly on both sides. So whatever you top them with – whipped cream, syrup, berries, peaches or ice cream – doesn't compete with the crunch. And the pockets are one-inch deep, so there is plenty of room for the kind of toppings that make a brunch more memorable and a dessert-to-die-for! And just to make sure every single waffle is perfect, Waring Pro® provides all the help you need: 2 LEDS for Heat-Up and Ready-to-Bake, 3 "Beeps" when waffles are done baking, and a thermostat/browning control to let you please all of the waffle lovers all of the time!
$150
Buy on Amazon
3. Breville Panini Press

In keeping with its heritage of creating the world's first domestic version of a professional sandwich press, Breville introduces the Panini Duo . With a 1500-watt heating element that heats up quickly, the Panini Duo's top plate delivers beautiful grill marks on any kind of bread, while its bottom plate delivers even and quicker heat on the flat to make the perfect Panini or your own toasted sandwich creation. Grill surfaces are made with a non-stick, scratch-proof Quantanium surface for easy cleaning. With its sturdy construction and stainless steel construction, the Panini Duo delivers on Breville's promise of performance and elegance.
$70
Buy on Amazon
4. Cuisinart 2-qt. Ice Cream & Frozen Yogurt Maker

Housed in brushed stainless steel with an embossed logo, this fully automatic small appliance makes frozen yogurt, sorbet, and homemade ice cream in as little as 25 minutes. The frozen-dessert maker features a heavy-duty motor and a double-insulated freezer bowl that holds up to 2 quarts of frozen dessert at a time. Simply add ingredients, turn the machine on, and frozen drinks and desserts are ready in minutes. Its large ingredient spout allows for easily adding favorite mix-ins, and an instruction book and recipes come included. A fun addition to any birthday party or backyard barbecue, the frozen-dessert maker measures approximately 8-1/4 by 8 by 11-1/4 inches and carries a three-year limited warranty.
$70
Buy on Amazon
5. Aroma Rice Cooker

Let Aroma do the cooking: restaurant-quality rice, healthy steamed meals, delicious one-pot dishes. .. Aroma takes the 'cook' out of home cooking – turning kitchen time into your time. Help the kids with homework, get creative at play time, or pick up that novel you've been waiting to dive into. All while delivering hot, hearty and healthy meals the entire family will love.
$33
Buy on Amazon
6. Oxo Cordless Electric Kettle

They say a watched pot never boils, but with stainless steel construction and crystal-clear borosilicate glass, it will be hard to look away. The Clarity Kettle provides peace of mind through thoughtful details like an auto shut-off safety feature and BPA-free borosilicate glass to provide thermal shock protection. The Kettle features a generous opening for easy filling, a comfortable handle for a secure grip that stays cool to the touch, as well as a soft-open lid that releases steam and prevents splatter. Cordless convenience and elegant design allow the Kettle to move seamlessly between kitchen and table. Whether you're creating a delicious cup of hot chocolate or serving afternoon tea, the OXO Clarity Kettle provides a pure and enjoyable experience.
$80
Buy on Amazon
7. KitchenAid Immersion Blender

The 3-Speed Hand Blender let's you blend, crush, chop, puree and whisk. Simply choose the appropriate speed for your ingredients. The chopper attachment is great for processing harder cheeses, nuts and creating graham cracker crusts. The included whisk attachment whips creams and egg whites to fluffy peaks.
$57
Buy on Amazon
8. Cuisinart Food Processor

The Cuisinart DFP-14BCNY Custom Food Processor has an extra-large feed tube that holds whole fruits and vegetables. Features a 14-cup work bowl, 4mm stainless steel medium slicing disc, stainless steel shredding disc, and chopping/mixing blade. Includes a spatula and recipe book.
$160
Buy on Amazon
9. Programmable Crock Pot

The Crock-Pot SCVT650-PS Programmable Slow Cooker brings modern style to any kitchen with its touchscreen control panel, seamless polished stainless steel exterior and silicone-wrapped handles. The ultimate in slow cooker convenience and style. Set your cook time from 30 minutes to 20 hours. The digital timer will countdown the minutes and automatically switch the cooker to warm when cook time is up, keeping track of how long the unit has been in warm mode as well. Removable, dishwasher-safe stoneware and glass lid double as a serving dish and make clean up a snap.
$77
Buy on Amazon
10. Breville Smart Convection Toaster Oven

Every Breville product begins with a simple moment of brilliance. The Breville Smart Oven began with the simple fact that different foods require different methods of heating: some, like baked goods, need to be cooked evenly; others, like meats, need to be seared on top. Most toaster ovens fail to distribute heat in a consistent way throughout their interiors, let alone change heat distribution to suit the different foods being prepared. This is how the Breville Smart Oven stands apart: whatever the food, it adjusts its heat distribution for perfect results.
$235
Buy on Amazon
---
Share Post:
Image Credit:
Images available on Amazon.com
Read More