Here at Williams Kitchen & Bath, we know the importance of your kitchen during the holiday season. From preparing the holiday ham to baking Christmas cookies, we all spend a little extra time frolicking near the stovetop and dashing to the oven during the colder months.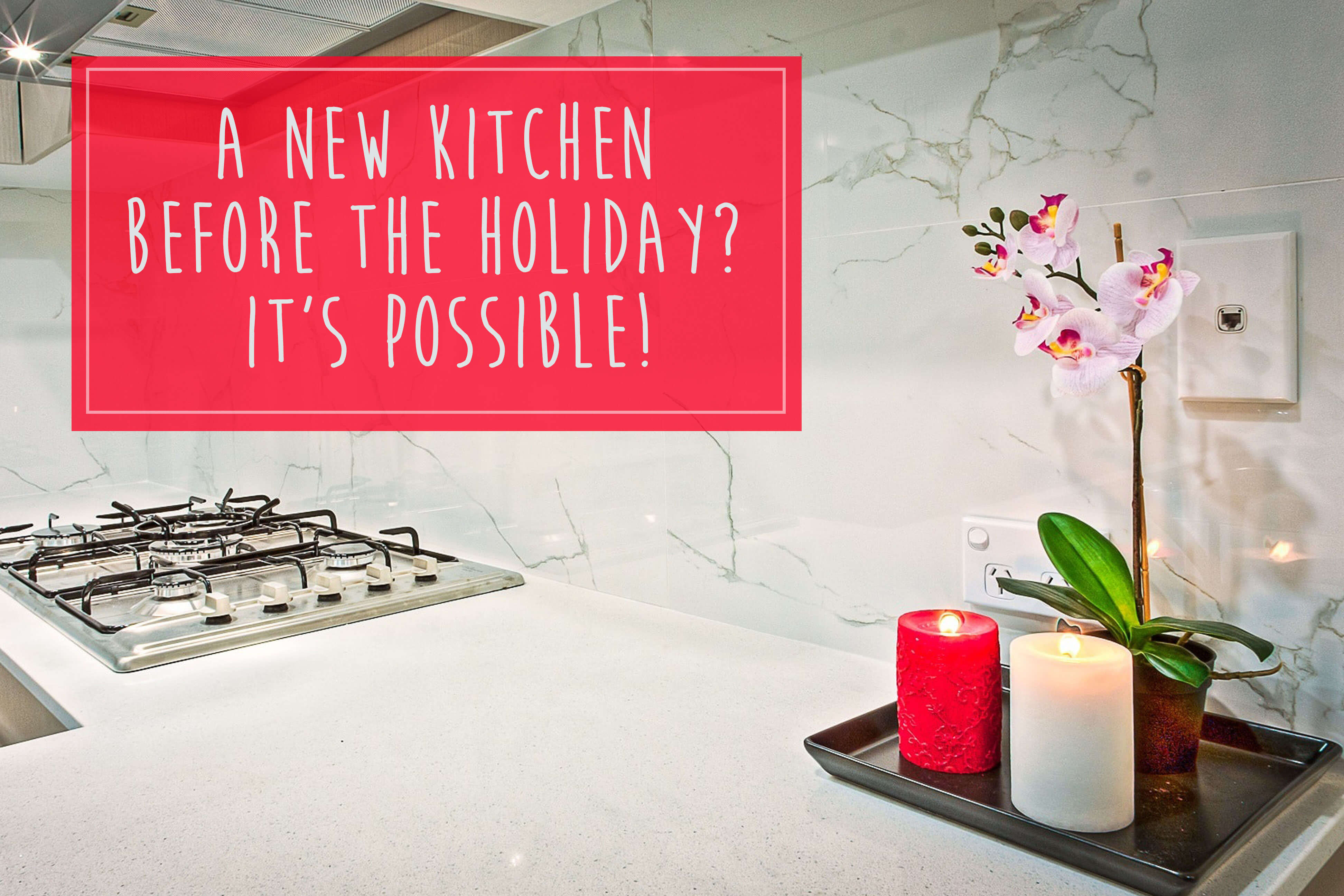 We get it, you were supposed to have all your kitchen remodeling done by the time the holidays rolled around – but that just didn't happen. While it may seem like you have no time left to spruce up your kitchen, there are a few easy updates you can squeeze in before your Christmas company arrives.
Add a Pop of Color
Adding new color to your kitchen doesn't always require a whole new paint job. Painting an accent wall with a fresh shade is enough to give your kitchen a new, modern look. (And it's much more time efficient!) Simple, colorful additions to your cooking space can also give the room a whole new mood. Throwing in a colorful rug is a great way to bring some extra cheer to your kitchen space. Plus, rugs are an easy way to keep holiday baking mess to a minimum – if the kids spill flour and sprinkles on the floor, just give the rug a good shake and you're good to go!
Transform Your Surfaces
Replacing the countertops in your kitchen may seem like a large project to tackle – but it's easier than you think, especially with the help of Williams Kitchen & Bath. Williams has helped countless of DIY kitchen remodelers find the perfect countertop for their needs in a timely fashion. New countertops are a sure way to give your kitchen a brand-new feel. Plus, who doesn't want a new surface to roll out their Christmas cookies on?
Give Your Dishes a New Home
Your cabinets are more important than you think. They hold all the dishware and utensils needed for entertaining your holiday guests. Give your dishes a new place to rest during the busy holiday season by installing new cabinetry! Choosing new cabinets doesn't need to be a difficult task with the help of the team at Williams Kitchen & Bath.
Plan Ahead
Maybe your entire dream kitchen just isn't possible before Christmas rolls around. Still, small changes can still give your kitchen a brand-new feel as you plan for more remodeling in the upcoming new year. The team here at Williams Kitchen & Bath wishes you a wonderful holiday season and we look forward to helping you plan any kitchen remodeling you have on your agenda, whether it lands before or after the Christmas rush.
---
Share Post:
Image Credit:
Image available from pexels.com