This holiday season, impress your friends and family with a wonderfully scented home.  Simmering and/or stove top potpourri is a great way to make your home smell warm and inviting during the Christmas season, and we've put together a great collection of our favorite scents and recipes that are sure to make your home smell amazing.
#scentedchristmas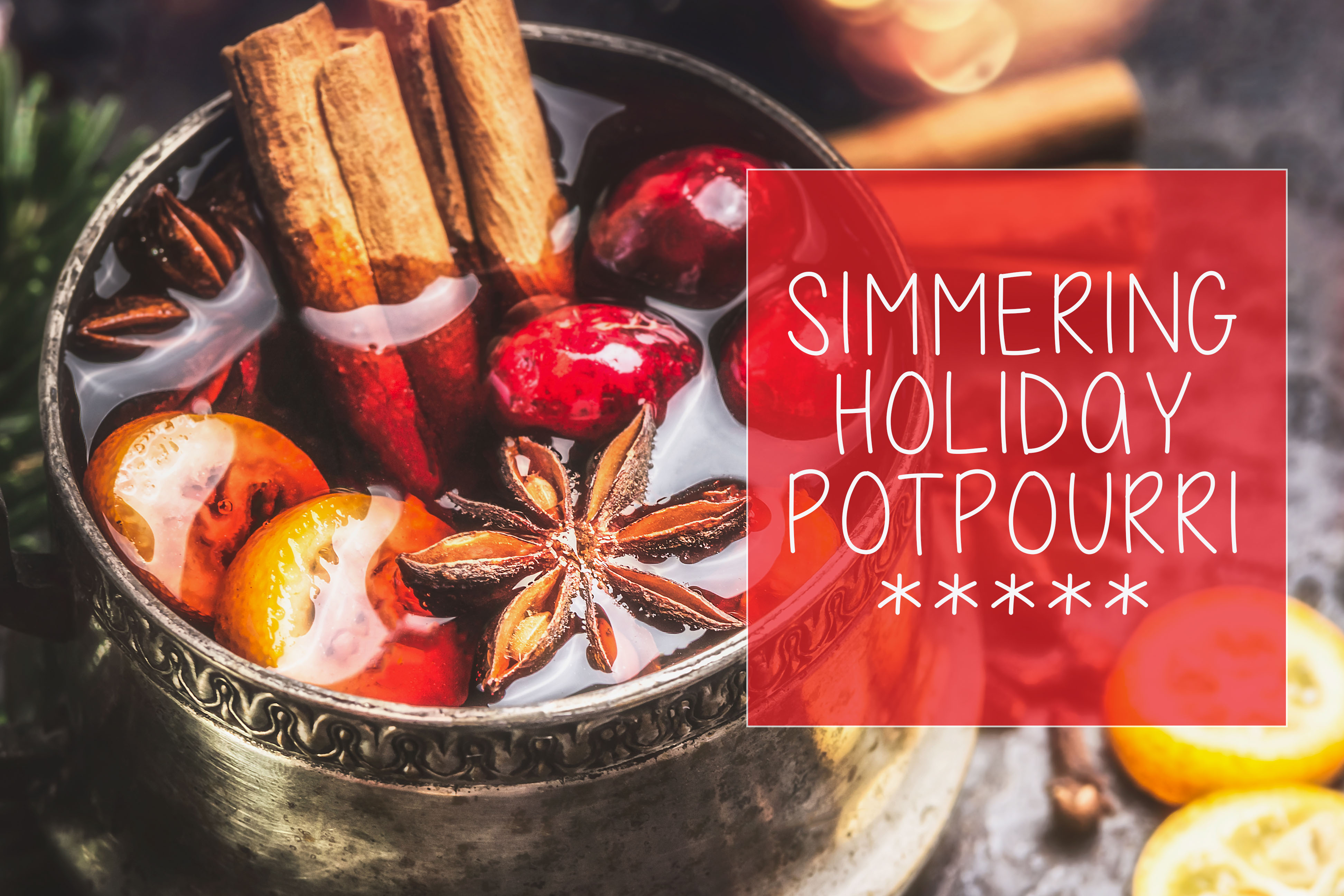 This season, welcome your family and guests with a simmering holiday stove top potpourri. These delicious scents are sure to transform every nook and cranny of your home into a place of holiday wonder.
How It Works:
Simply fill a pot with water, add your favorite ingredients and let the delightful scent simmer all day long. An added bonus – this also helps humidify your home during the dry winter season.
To get started, fill a saucepan with water and bring to a boil. Add the ingredients from your favorite recipe, boil for a few minutes, then turn the heat to low or simmer for as long as you want the fragrance to fill your home. Remember to top off the water every 30 minutes or as needed, you don't want the pot burning dry. Never leave the house with your stove top on, remember to always turn the stove off before leaving. 
You can also use a slow cooker or crockpot to simmer your potpourri. Simply add the water and ingredients, put the cooker on low heat, and let the fresh scent fill the air.
Storage:
You can refrigerate your simmering recipe and reuse daily for up to one week. Just keep adding water as needed.
Below are some of our favorite recipes, but we encourage you to mix up the ingredients and amounts to find your favorite aromas. Soon your house will smell like happiness!
1. Christmas Stove Top Potpourri (Orange Cranberry)
Ingredients:
1/2 cup fresh cranberries
1 orange (sliced)
4 cinnamon sticks (broken in half)
1 TB cloves
1/8 tsp nutmeg
Source: iheartnaptime.net
---
2. Christmas Potpourri Simmering Pot
Ingredients:
3 sprigs evergreen or handful pine needles
2 cinammon sticks
2 TBS whole cloves
2 bay leaves
2 pieces orange rind
2 pieces lemon rind
Source: tipnut.com
---
3. Winter Freshener
Ingredients:
2 cups dried rosemary
2 cups dried lavender
1 cup dried eucalyptus leaves
1/2 cup dried peppermint or spearmint
1/2 cup dried bay leaves
Source: tipnut.com
---
4. Spiced Apple
Ingredients:
1 apple, sliced
5 sticks cinnamon
2 tablespoons freshly grated nutmeg
2 tablespoons whole cloves
Peel of an orange or lemon
Source: untrainedhousewife.com
---
5. Fresh Lemon & Rosemary
Ingredients:
1 lemon, sliced into thin rounds
3 springs of rosemary, about 4 inches each
1 teaspoon pure vanilla extract
Source: untrainedhousewife.com
---
Share Post:
Image Credit:
Image purchased through stockphotosecrets.com